A transformational employer brand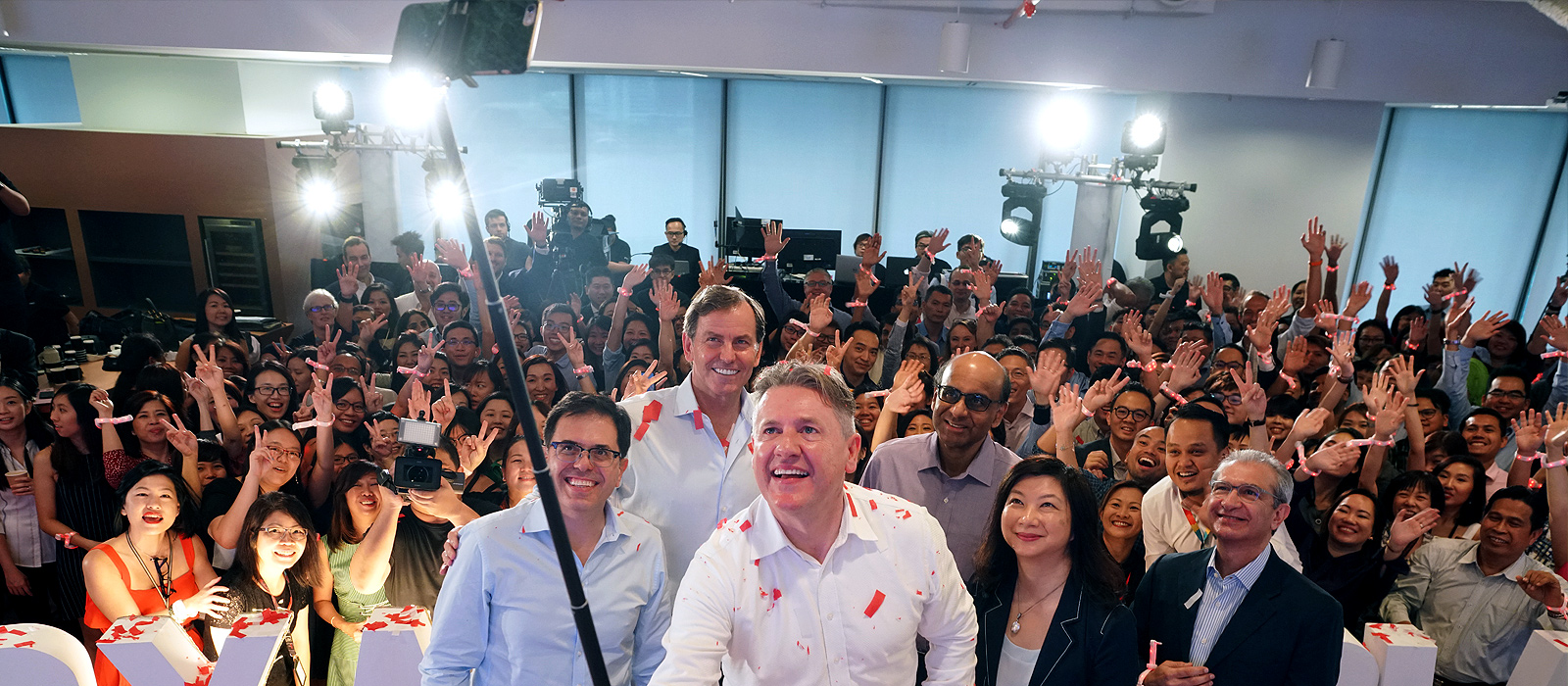 For more than 85 years, Prudential has been serving the financial protection needs of families and individuals in Singapore. In 2017 they embarked on an ambitious journey of transformation to future proof themselves for the next 85 years. Maximum partnered with them to develop an employer brand that would help get them there.
Established brand, Preconceived ideas
The objective was to reframe how the company was perceived. From being synonymous with Insurance and Financial services, the challenge was to broaden Prudential's appeal, to be seen as a more robust, people-centric, service-oriented brand known for crafting innovative, experiences that enable all to live life well.

There's no business plan without a talent plan
There were two components to the talent strategy: (i) Attracting a different talent profile externally – people from outside the industry, with a different background and skill-set, or who might not have considered insurance as a viable career path before and (ii) Signalling to existing employees that things were changing.
Employer brand platform
As part of the wider organisational strategic framework, the Employer Value Proposition (EVP) —Create Something New— was built around five new, aspirational Culture Values. These new values: Innovation, Collaboration, Empowerment, Accountability and Trust, emphasised a new, more process-oriented way of working that prioritised the approach to work as much as the outcome.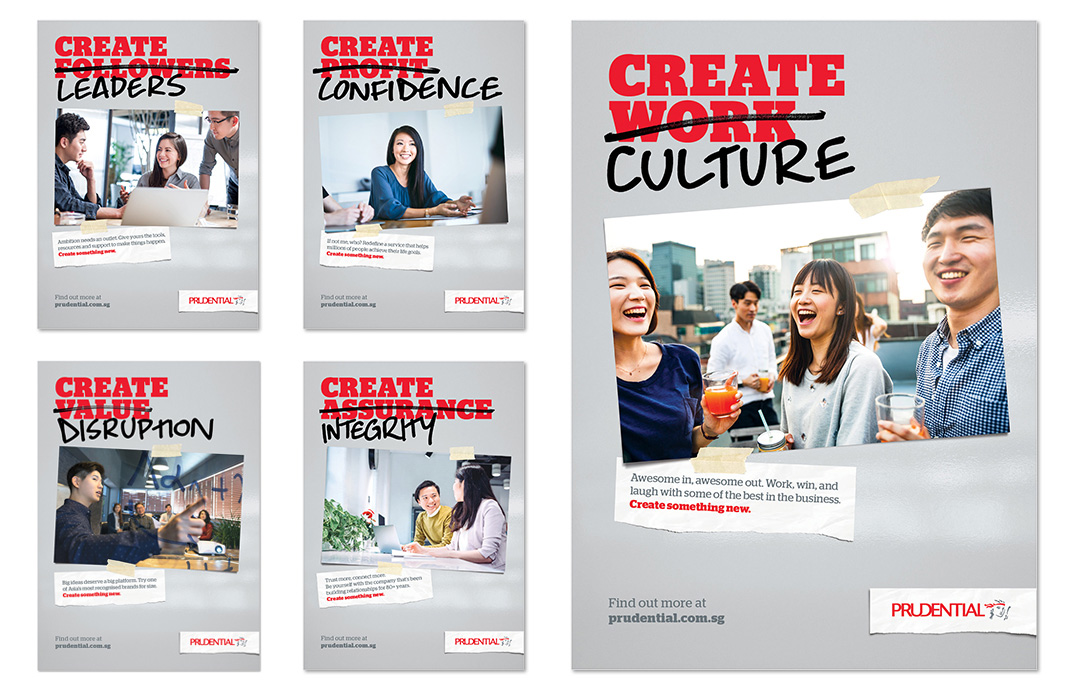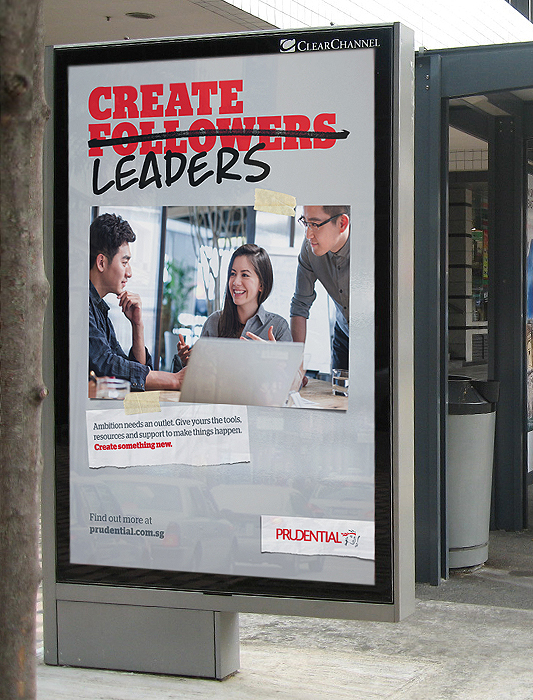 External – When everyone zigs, zag
Externally, the goal was to stand out from a cluttered, conservative pack of competitors. A rough, hand-made visual style based on the idea of a canvas reflected the creative drive at the heart of the brand and signalled loud and clear that Prudential was not "one of the pack".
Using a grid-less visual design language made from torn scraps of paper, pins, bits of tape, hand-drawn icons and a custom typeface, Maximum developed a comprehensive brand touchpoint toolkit and employer brand handbook for recruiters and hiring managers.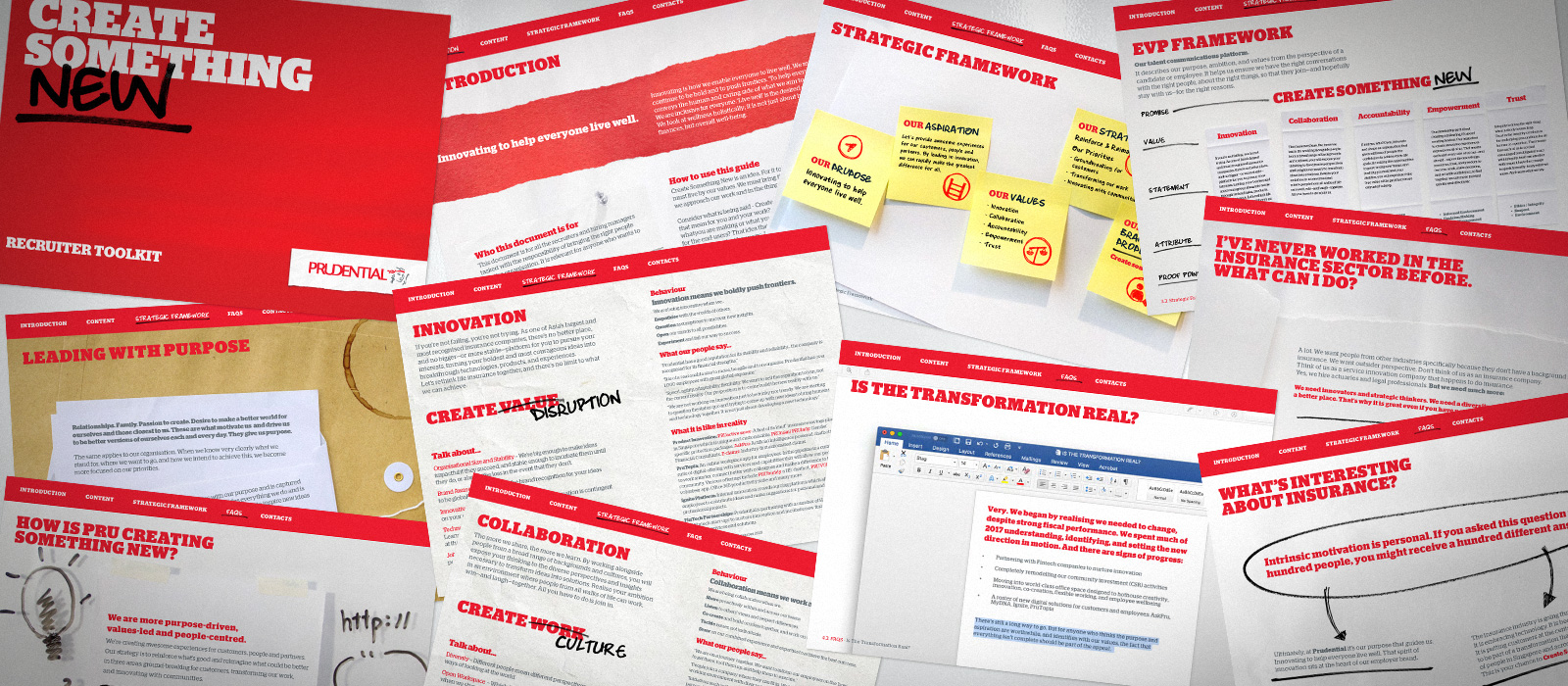 Internal – Don't state, Demonstrate
Internally the idea was to help create the conditions for change by helping to foster an environment that was more conducive to creativity as a whole.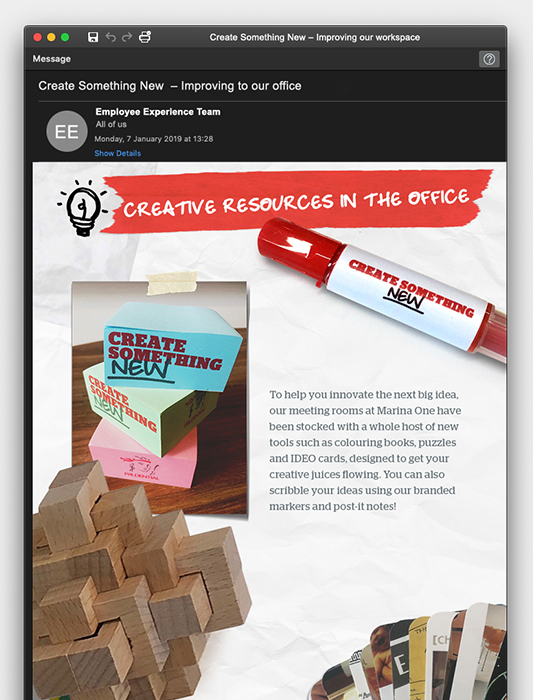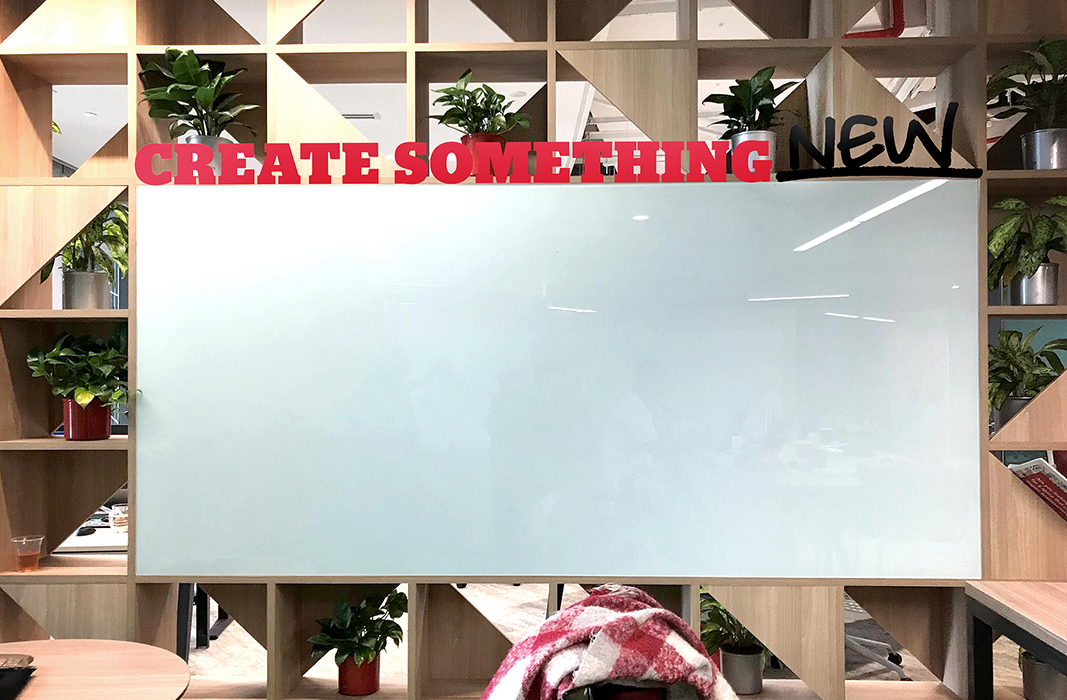 Functional production materials like whiteboards, markers, sketch-pads, post-its, stickers, powerpoint templates,and icon-sets would help employees to get creating. And creativity aids such as stress-relieving coloring books, 3D puzzles, brain-teasers, and creative method cards would help them to think differently and approach challenges from different angles.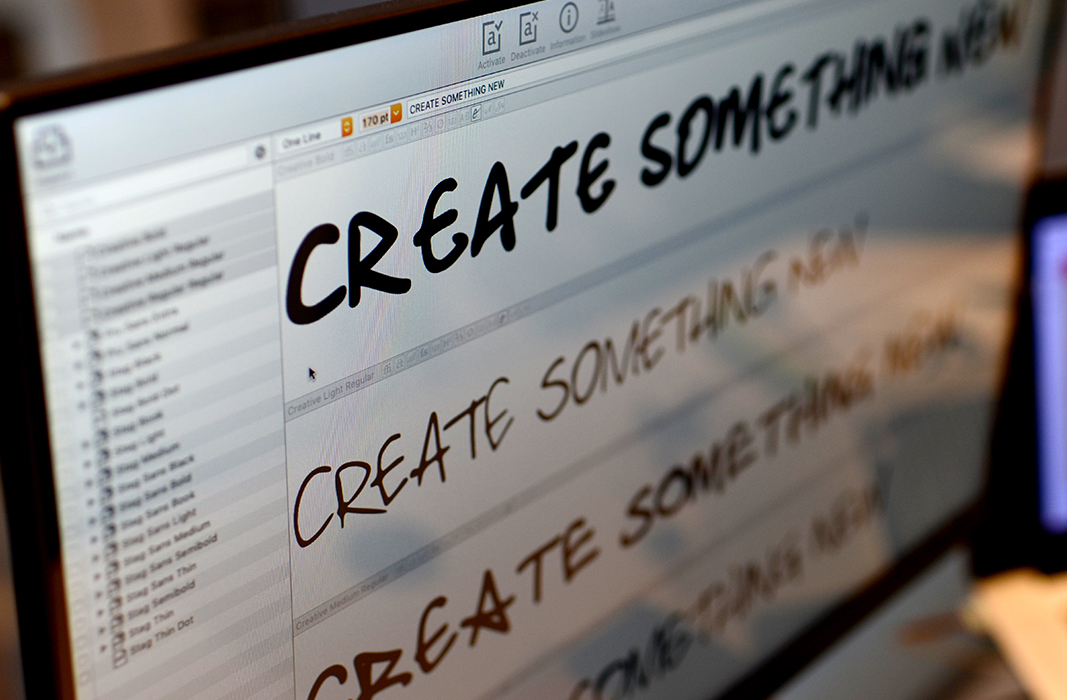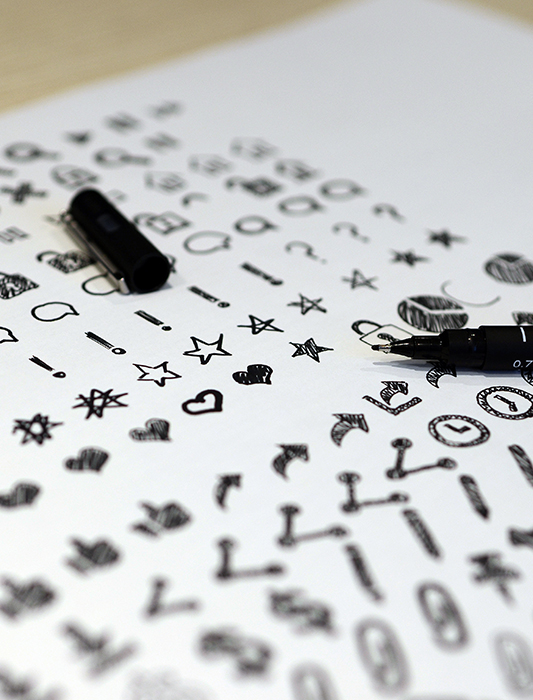 Rather than simply talking about creativity and communicating the new values, the materials and resources would help employees to be and feel more creative.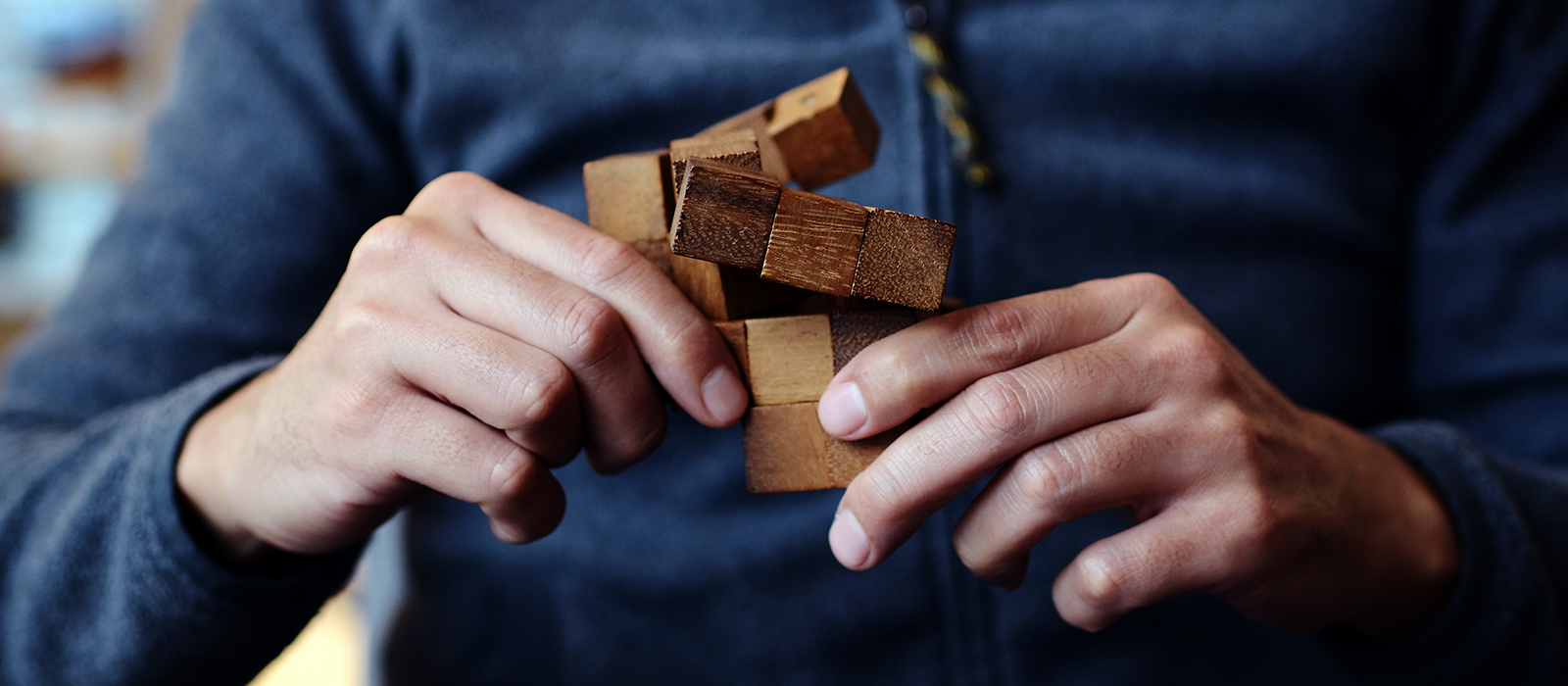 Changing perceptions doesn't happen overnight, but Prudential's employer brand is a big step in helping employees and candidates alike to Create Something New.
Let's talk
If you want to know how a strong Employer Brand can reduce the overall costs of attracting, engaging and retaining talent, or are facing a talent-related challenge that has no obvious solution, our team would be delighted to sit down with you for an obligation-free chat.
Contact us
More work