Tailor-made internal recruitment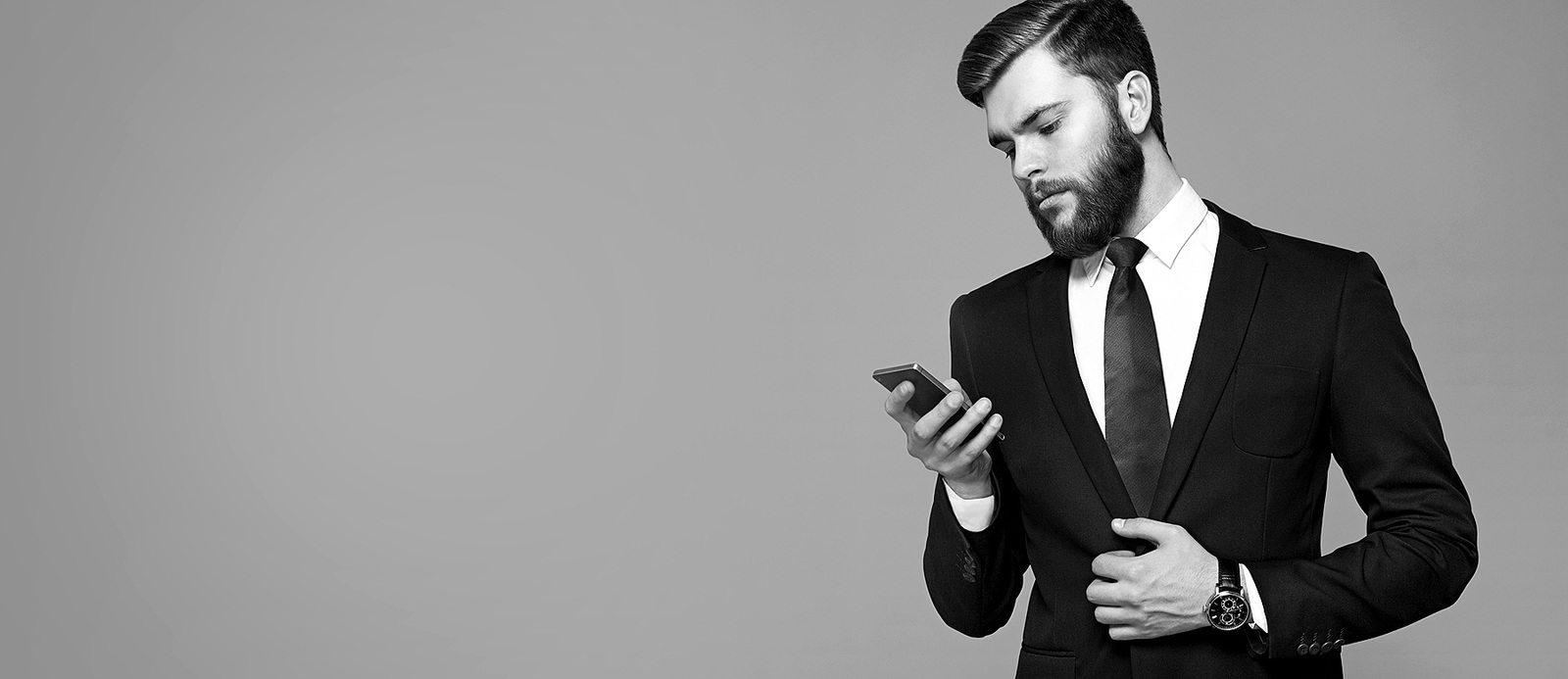 Representing 8 brands and 18 business functions in 21 locations across 19 countries, H&M Production strives to be a values-led employer. Two of their values are enabling employees to grow in their own way and creating long-term opportunities for employees. Committed to these principles, H&M Group Global production appointed Maximum to help them increase the volume of their internal recruitment.

Taking a values-first, user-centred approach, Maximum developed a bespoke internal mobility solution, streamlining recruiter workflows and making career opportunities more accessible for all production employees. Enthusiastically embraced, the platform has increased applications per role by 100% and 52% in internal mobility.
Challenges – Inconsistency and Invisibility
ATS, intranet, and internal notice boards varied from region to region. And all applications were sent in via email. This created disparities and inaccuracies in the availability and visibility of candidate and requisition information. Applications numbers were low. The fragmented digital ecosystem made it impossible to get an accurate view of the situation and discouraged people from applying. Having a strong network as a candidate was necessary to get identified and selected.
Recruiters had no way of knowing which opportunities were currently open across the organisation, and which candidates were eligible, interested and/or potentially eligible. And employees had an incomplete picture of exactly what opportunities were available to them—or could be in the future.
As a result, employee career development was perceived to be more limited than it was. And recruiters had to work harder to pair suitable candidates with vacancies and plan for future hiring needs.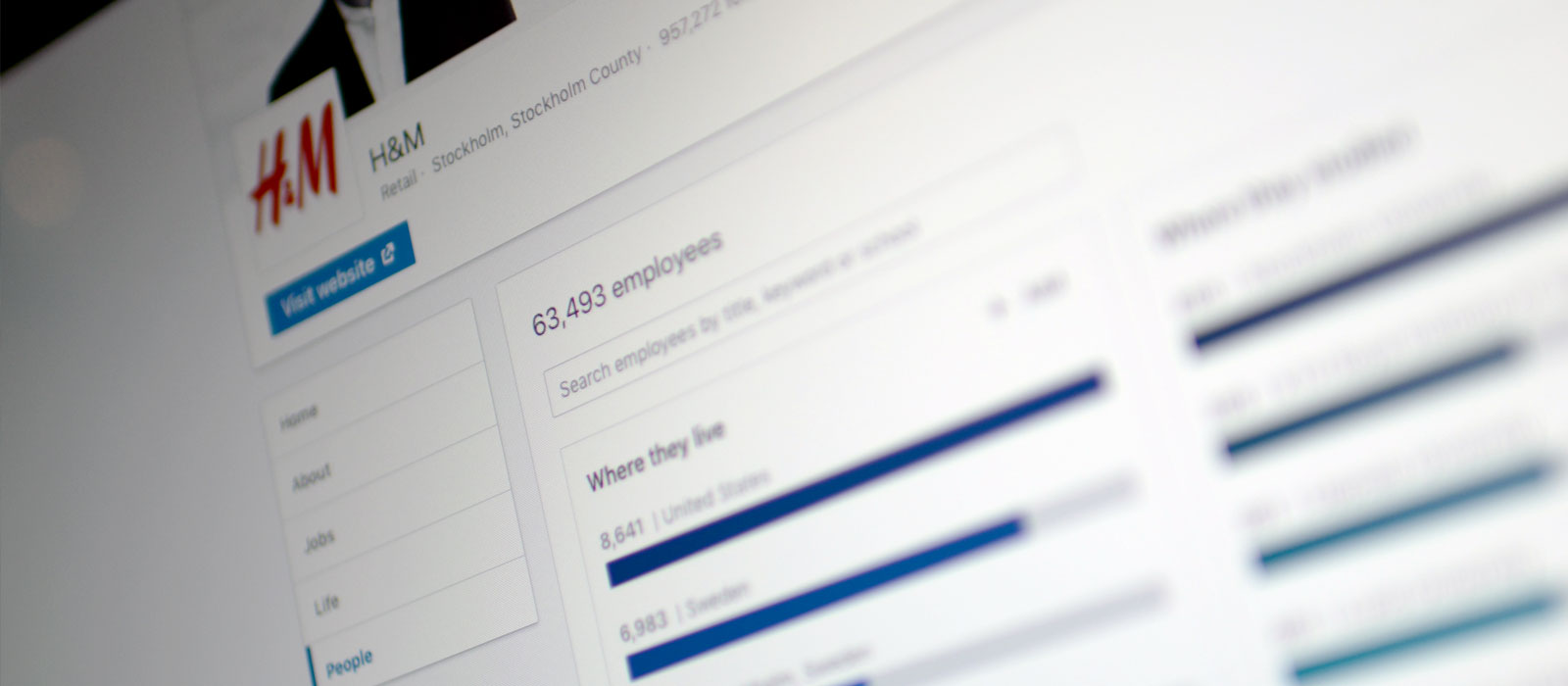 Insight – The problem contains the solution
In order to find suitable employees for their requisitions, some resourceful hiring managers were using LinkedIn to search and screen H&M Production employees. If they had a profile, it was usually more complete and more detailed than what was available in the ATS or HRIS, giving them a clearer picture of the employee's experience, interests, background and ambitions. From there, they could then track down the employees within H&M, assuming the profile was up to date and they were still with the company.
With the vague conceptual model of a "LinkedIn for H&M" in mind, the next step was to understand more specifically how a solution like that might need to work for H&M's recruiters and employees.
Don't design for users. Design with users.
Maximum worked closely with H&M's internal recruitment. User stories helped the design team to understand recruiter behaviour and processes, and iterative design prototyping and user-feedback helped to optimise the interface and workflow.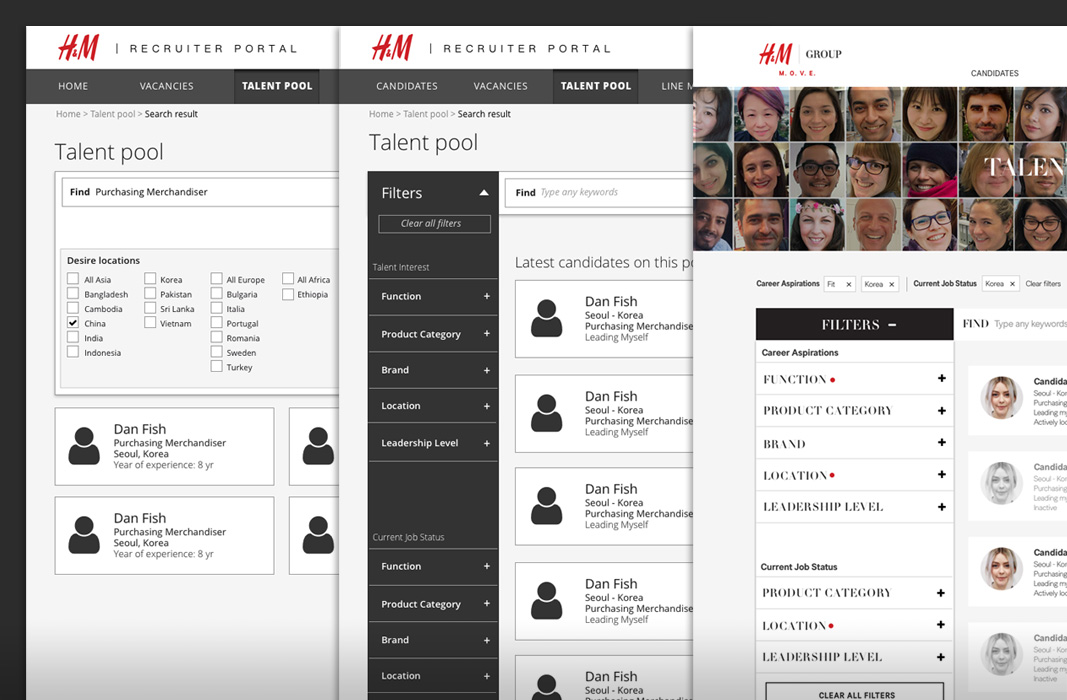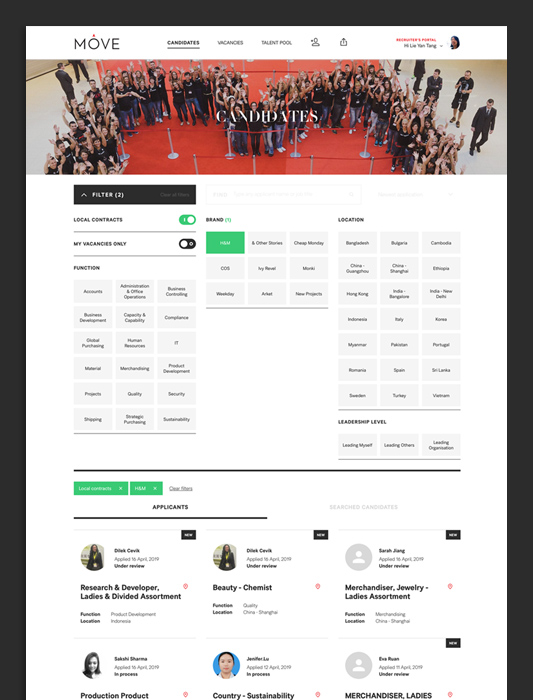 MOVE: Discover your production career
The final web platform is device neutral and tailored to the users' needs. Recruiters have access to a detailed, group-wide talent pool, are able to find candidates with advanced search filters, manage and process their own vacancies individually or in batches, add new users, share information publish new vacancies and contact employees directly all in a few clicks.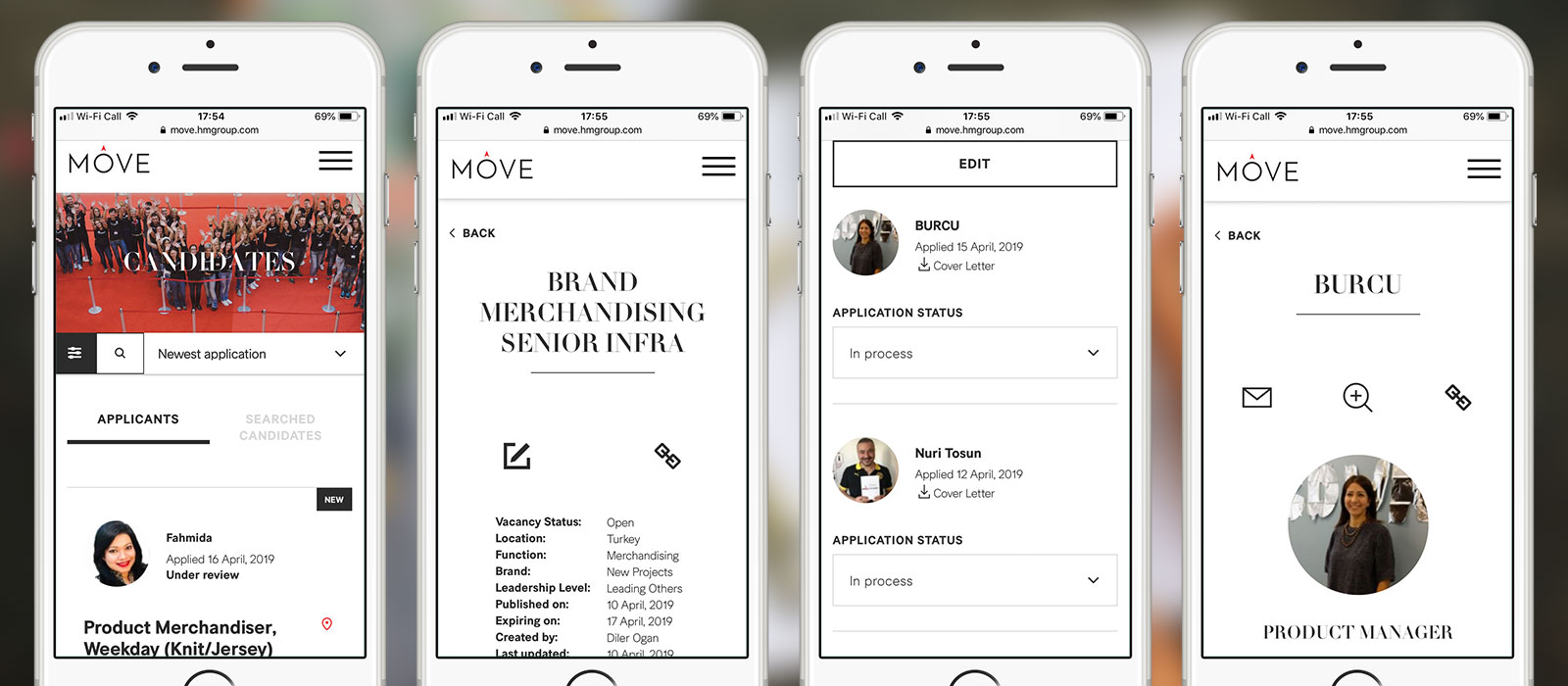 All production employees now have easy access to the full wealth of career opportunities at H&M Group Production. And by completing their profile, recruiters can better match their experience and interests to available positions within the group.
Results
+100% increase in applicants
52% increase in internal appointment
Positive feedback from everyone, both recruiters and employees. Especially around UX.
Silver: Best recruitment innovation, 2019 Asia Recruitment Awards, Greater China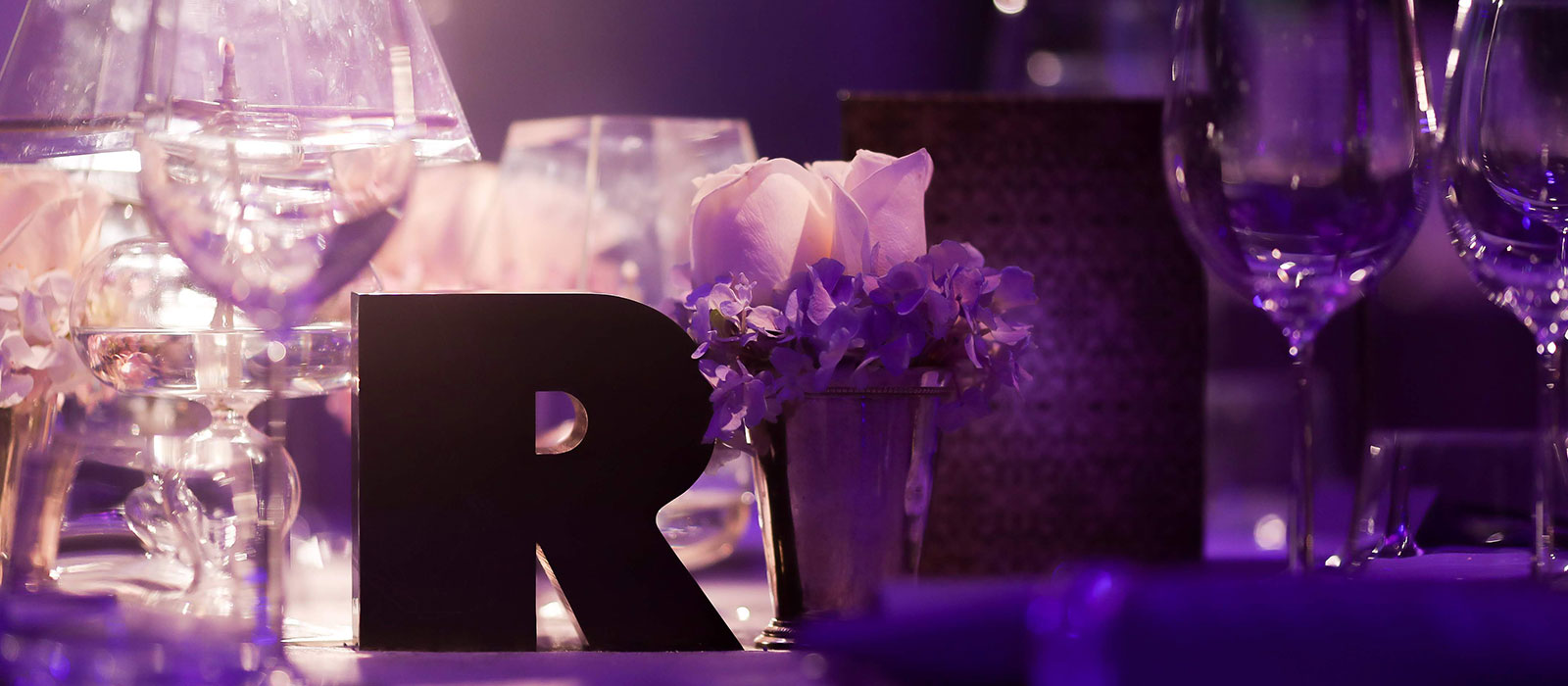 "MOVE has created a more transparent and user-friendly environment for our people to pursue their career ambitions. People engagement increased. The right people moved into the right roles. And when that happens, magic happens! But we could not have done this without Maximum. The expertise, the open-mindedness, the creativity and the occasional outrageous idea made MOVE a lasting success!"
Let's talk
If you want to know how a strong Employer Brand can reduce the overall costs of attracting, engaging and retaining talent, or are facing a talent-related challenge that has no obvious solution, our team would be delighted to sit down with you for an obligation-free chat.
Contact us
More work